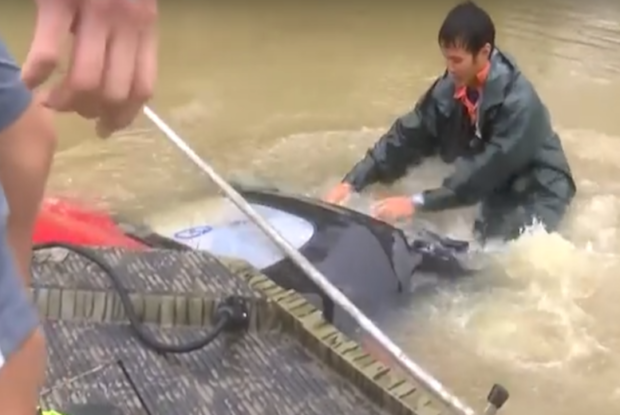 Anyone who has ever owned a dog knows that these animals are not just pets, but are beloved members of the family, which is why one woman was only worried about her dog's life seconds after narrowly escaping with her own life.
After recent heavy rainfall caused heavy
flooding
across Louisiana, one Baton Rouge woman and her dog found themselves trapped as floodwaters swept her car away and quickly started sinking it. Luckily, however, a group of strangers in a boat heard her screams just before the car was fully submerged.
David Phung and a group of men drove up to the sinking car and quickly tried to break a window so the woman could get out, but when their efforts failed, Phung knew they were running out of time and jumped in and managed to pull the woman out safely.
Phung thought his job was over, but the second the woman popped her head above the water she was screaming for them to help get her dog.
One of the other men tried to explain that the dog was most likely gone, but Phung bravely dives under the water to search for the dog, who was somewhere inside the fully sunken car. Seconds later, he miraculously comes back to the surface with the woman's scared but unharmed dog.
See More
Watch the entire video below to see the amazing moment this man saves two lives who were seconds from death.
Can you believe this man would risk his life for a stranger and then again for her dog? Let us know what you think in the comments below, and please SHARE this amazing moment with friends on Facebook and twitter.