Here's A Quick Way To Solve A Problem with Trump's Refugee Order Faces More Legal Challenges
What We Know So Far
Protests erupted across the US on Sunday for a second day as the impact of President Donald Trump's executive orders to restrict visas and refugees, particularly from a group of Muslim-majority nations, started to set in, stranding passengers at airports around the globe.
Trump on Friday signed executive orders that suspended the US refugee program for 120 days, and indefinitely banned those coming from Syria. The order also barred entry into the United States for citizens of Syria, Iran, Iraq, Libya, Somalia, Sudan, and Yemen for 90 days.
An Iraqi man who risked his life working as an interpreter for US forces was among the first immigrants blocked at an American airport Friday night. News of his detention at JFK airport in New York, and eventual release, sparked a large demonstration Saturday that grew into the night. Other demonstrations protesting Trump's executive orders also started popping up across the US, including in Chicago, San Francisco, Los Angeles, Dallas, and Washington, DC.
On Saturday night, federal judges began pushing back against the order. One issued a stay that prevents travelers already here from being immediately deported, telling the court, "I think the government hasn't had a full chance to think about this." A federal judge in Virginia also ordered officials to give lawyers access to "all legal permanent residents" being detained at Dulles International Airport.
Early Sunday, the Department of Homeland Security said it would comply with the judicial orders, but said the executive orders remain in place.
State Department officials are expected to sign a "dissent" memo opposing Trump's ban.
Updates
Posted at 8:02 p.m., Jan. 30
Trump on Monday falsely said Delta Air Lines and protesters were to blame for the the mass outrage and confusion at airports nationwide this weekend, which was actually sparked by his executive order. He also blamed Sen. Chuck Schumer's "tears" for the problems at airports.
— Tasneem Nashrulla
Posted at 7:42 p.m., Jan. 30
Obama just spoke out against Trump's travel ban
"The President fundamentally disagrees with the notion of discriminating against individuals because of their faith or religion," Obama's statement says, in part.
Read the whole statement
here
.
Posted at 6:52 p.m., Jan. 30
Trump's executive orders face more legal challenges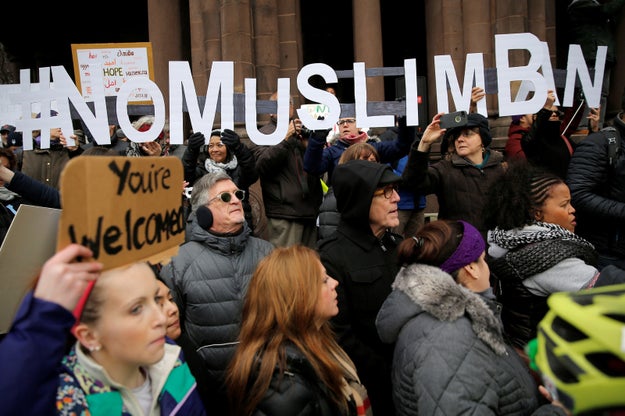 Washington State Attorney General Bob Ferguson on Monday said he plans to file a federal lawsuit against President Trump, the US Department of Homeland Security and high-ranking administration officials.
The complaint is attempting to invalidate key provisions of Trump's executive orders restricting visas and refugees from Muslim-majority countries.
In a
statement
, Ferguson said the executive order violates the US Constitution's guarantee of equal protection and the First Amendment's establishment clause, infringes individuals' constitutional right to due process, and violates the federal Immigration and Nationality Act.
Additionally, the Council on American-Islamic Relations (CAIR) filed a federal lawsuit Monday on behalf of more than 20 people affected by what they referred to as the "Muslim ban."
"There is no evidence that refugees – the most thoroughly vetted of all people entering our nation – are a threat to national security," Lena F. Masri, CAIR national litigation director, said in a statement. "This is an order that is based on bigotry, not reality."
CAIR argued that the order is unconstitutional because its true and underlying purpose is to "ban people of the Islamic faith from Muslim-majority countries."
—Adolfo Flores
Posted at 5:39 p.m., Jan. 30
State Depart officials to sign "dissent" memo opposing Trump's travel ban
Dozens of State Department officials are expected to sign a memo slamming the president's order, saying, "We are better than this ban," the
Washington Post
reported.
The officials are using the "Dissent Channel," which
allows
State Department employees to express constructive dissent and offer alternative views on substantive foreign policy issues.
"A policy which closes our doors to over 200 million legitimate travelers in the hopes of preventing a small number of travelers who intend to harm Americans from using the visa system to enter the United States will not achieve its aim of making our country safer,"
a draft of the memo
obtained by the
Post
said. "Moreover, such a policy runs counter to core American values of nondiscrimination, fair play, and extending a warm welcome to foreign visitors and immigrants."
The memo said Trump's order would increase anti-American sentiment and "immediately sour relations" with "much of the Muslim world, which sees the ban as religiously-motivated."
Saying, "we are better than this ban," the memo said the order stood "in opposition to the core American and constitutional values," and that it called back to "some of the worst times in our history" including stringent immigration laws enacted in the 1920s and the restrictions on Japanese-Americans in the US during the 1940s.
Posted at 5:25 p.m., Jan. 30
Pentagon compiling a list of Iraqis who should still be able to enter the US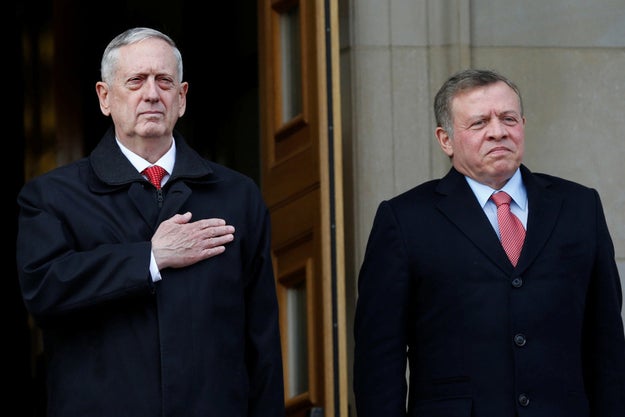 WASHINGTON — The Department of Defense currently is compiling categories of Iraqis who should be exempt from President Donald Trump's recent executive order, a defense official told BuzzFeed News.
Among the categories of people the Pentagon is considering outside the scope of the executive order, which bans Iraqis from entering the country for the next 90 days, include pilots training to fly F-16s and interpreters.
Secretary of Defense Jim Mattis, who was not consulted before the executive order, defense officials said, asked that the list be compiled. It was immediately unclear how many categories would be in the request or whether it applies to those who worked alongside US troops during the 2003–11 Iraq War or only those currently part of the US–Iraqi campaign against ISIS.
—Nancy A. Youssef
Posted at 2:54 p.m., Jan. 30
Merkel renews criticism of Trump's refugee ban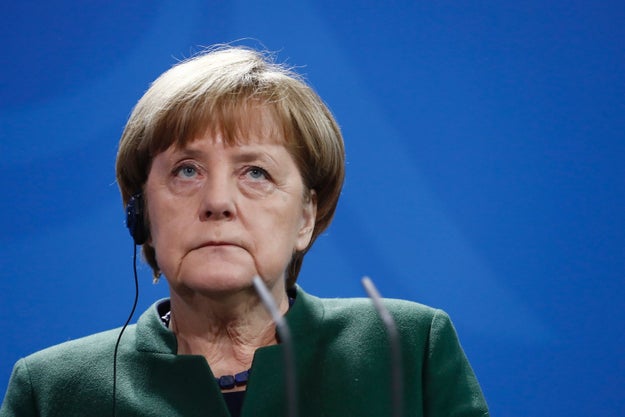 The German chancellor has repeated criticism of Donald Trump's refugee policy during a press conference in Berlin Monday.
Merkel said Trump's executive order banning individuals from seven Muslim-majority countries went against the spirit and principles of international cooperation. Over the weekend,
reports noted
that the chancellor had to "explain" the Geneva convention to the recently inaugurated US president.
"The necessary and decisive battle against terrorism does not in any way justify putting groups of certain people under general suspicion — in this case people of Muslim belief or of a certain origin," Merkel told the conference.
"In my opinion, this act runs contrary to the basic principles of international refugee help and international cooperation," she
continued
.
"The Chancellery and the Foreign Ministry will do everything they can, especially for those dual citizens affected, to clear up the legal ramifications and to emphatically represent their interests under the law."
She added that her government was "clearly having close consultations with our European partners about this entire issue."
—Rose Troup Buchanan
Posted at 1:53 p.m., Jan. 30
Trump says that if ban had been announced prior to the executive order being signed, it would have led to a flood of "bad dudes" entering the country
Posted at 12:44 p.m., Jan. 30
Trump tweets defending travel ban, blames "problems" on Delta Airlines, protesters, and Chuck Schumer
Donald Trump launched into a series of tweets defending his travel ban on Monday morning, and blamed "big problems at aiports" on a Delta Airlines outage, protesters, and Senate Minority Leader Chuck Schumer.
Delta Airlines did experience an
IT outage
caused more than 150 flight cancellations overnight Sunday. However, it is not clear how this is linked to the activity at airports throughout the weekend. BuzzFeed News has reached out to the airline, as well as Sen. Schumer, for comment.
The figure of 109 people being detained out of 325,000 travelers was initially given by White House Chief of Staff Reince Priebus on
NBC's Meet the Press
on Sunday.
—Francis Whittaker
Posted at 1:19 a.m., Jan. 30
Protesters in New Orleans say Trump's refugee ban hits close to home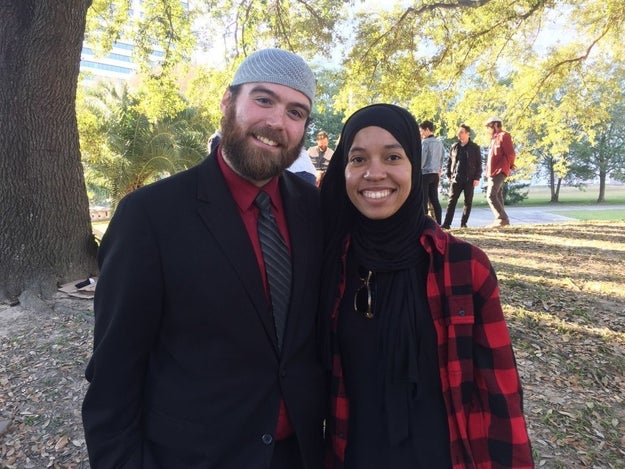 NEW ORLEANS — For Nicholas Pierce, President Trump's executive order barring refugees and Iraqis from entering the United States hits especially close to home.
During an impromptu protest outside New Orleans' City Hall Sunday, Pierce, a white Muslim American, told the crowd his message to Trump and other Americans worried about Muslim immigration was simple. "We are not terrorists, we are not trying to hurt anyone," Pierce said. "I had someone earlier today say to me, 'Why won't you co-exist with me?' I said, 'You don't know me. I've been co-existing with you for 27 years!'"
For Pierce, the ban on refugees is very personal. As a teenager growing up in Baton Rouge, Louisiana, the now–27-year-old law school student found himself essentially alone following the deaths of first his mother and then both grandparents.
While he was struggling to make ends meet as a 16-year-old washing dishes, an old co-worker, who was a 20-year-old student at Louisiana State University, and his family, who have the last name Abuhajah, eventually took Pierce in. "I was essentially fostered by a Palestinian family," Pierce said in an interview with BuzzFeed News.
Read more
here
.

—John Stanton
Posted at 12:01 a.m., Jan. 30
Latest statement from Trump administration backs down on green card holders
In a major reversal, a top Trump administration official said legal permanent residents will continue to be permitted to travel.
"In applying the provisions of the president's executive order, I hereby deem the entry of lawful permanent residents to be in the national interest," Homeland Security Secretary John Kelly said in a
statement
. "Accordingly, absent the receipt of significant derogatory information indicating a serious threat to public safety and welfare, lawful permanent resident status will be a dispositive factor in our case-by-case determinations."
Among the most radical elements of Trump's original move was including green card holders, whose status has long been relatively secure in the US immigration system. Trump aide Steve Bannon, who has played a central role in his young administration, reportedly fought to include green card holders — many of whom have lived in the United States for many years — in the ban.
Thousands of other people from the seven countries Trump has singled out — refugees and people who hold student, work, or other visas — will still be affected by the president's order.

— Michelle Broder Van Dyke
Posted at 9:45 p.m., Jan. 29
Trump just released a statement defending his executive order
As protests continue around the country, President Donald Trump issued a statement defending his executive order on immigration:
Posted at 8:57 p.m., Jan. 29
National protests continue for second day against Trump's refugee ban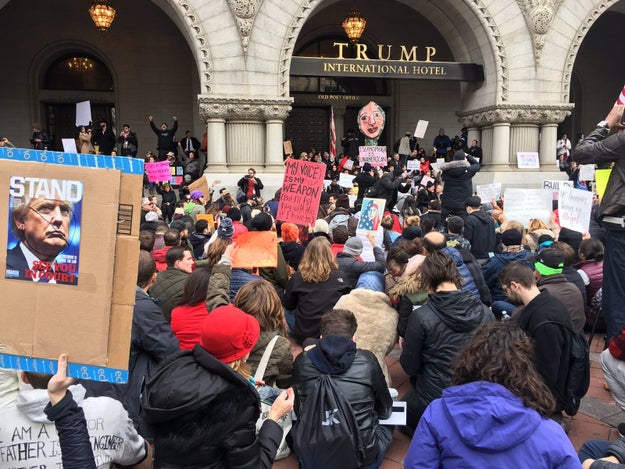 Protests again gathered at demonstrations around the country on Sunday to rail against President Donald Trump's executive order on immigration, suspending the country's refugee program and blocking entry to people from numerous Muslim nations.
Demonstrators gathered at JFK airport in New York City, as well as Manhattan's Battery Park. Additional protests were held in San Francisco, New Orleans, Boston, and elsewhere.
In Washington, DC, thousands gathered near the White House, but the protest didn't stay in place for long.
Soon the demonstrators begin making a push to march to the Capitol. Along the way, a sizable crowd peeled off to protest at the Trump International Hotel.
Protesters stood outside the front steps of the luxury hotel, chanting, among other things, "Shame."
One woman, Allison Giza, told BuzzFeed News she was visiting from Baltimore.
"I knew that there was going to be something going on… It's insane," Giza said. "How can I not be here?"
A crowd of about 100 people had gathered outside of JFK airport's Terminal 4 in New York City by early afternoon on Sunday, marking a second day of protests of Trump's immigration ban. The size was modest compared to the protests that broke out at the airport the day before, but stayed steady until evening.
Amid continued chants like "This is what democracy looks like" and "Let them in," Michael Raj, a 22-year-old first generation American, told BuzzFeed News that he came out to protect the opportunity for others that his parents had been afforded when they immigrated from India.
"The idea that that opportunity might not be around for other people who are trying to escape horrendous conditions is a scary thought because that's what my family legacy is based on," he said.
Raj, who is from Rosedale, Long Island, arrived at the protest with his friends, Tyler Bethune, 23, and Maham Bokhari, 22, who also live in Long Island.
"If this ban were applied to all immigrants, then I wouldn't be here and a lot of my family wouldn't be here," said Bethune who has family from Jamaica and Panama. "This is a country that was built on other people coming here and finding freedom."
As evening hit, one of the protesters, Nazli Parzizi, served traditional Iranian dishes like sour cherry rice with saffron chicken to the crowd. "The ban affects my family," said the 40-year-old, who lives in Brooklyn and is from Iran. Many of her family are still there.
"This is what I do, I feed people and I nourish them," she told BuzzFeed News, adding that she wanted to show her gratitude for all the people who continued to stand against the ban. "The best way of sharing the world is through food."
Inside the airport, a coalition of volunteer lawyers continued to seek the release of people who were being detained. Since the executive order was signed, 48 people had been detained at JFK according to Dorian Block, one of the lawyers assisting families. At least 16 were still in detention on Sunday night and two people had been deported, she said.
—David Mack, Lissandra Villahuerta, and Rosalind Adams
Posted at 8:34 p.m., Jan. 29
Sixteen attorneys general label Trump's refugee order "unconstitutional, un-American, and unlawful"
New York Attorney General Eric Schneiderman and 15 other state attorneys general on Sunday condemned President Donald Trump's executive order on immigration and predicted it would be struck down by the courts.
In a joint statement, the16 officials blasted the order as "unconstitutional, un-American and unlawful."
"Religious liberty has been, and always will be, a bedrock principle of our country and no president can change that truth," the attorneys general said.
The statement was issued on the behalf of attorneys general from New York, California, Pennsylvania, Washington, Massachusetts, Hawaii, Virginia, Oregon, DC, Connecticut, Vermont, Illinois, New Mexico, Iowa, Maine, and Maryland. These attorneys generals are all Democratic.
The AGs also stated they were "confident" that the order would be struck down by the courts.
"In the meantime, we are committed to working to ensure that as few people as possible suffer from the chaotic situation that it has created," they said.
—Tanya Chen
Posted at 8:06 p.m., Jan. 29
Jason Chaffetz: "There needs to be some further clarification" of immigration order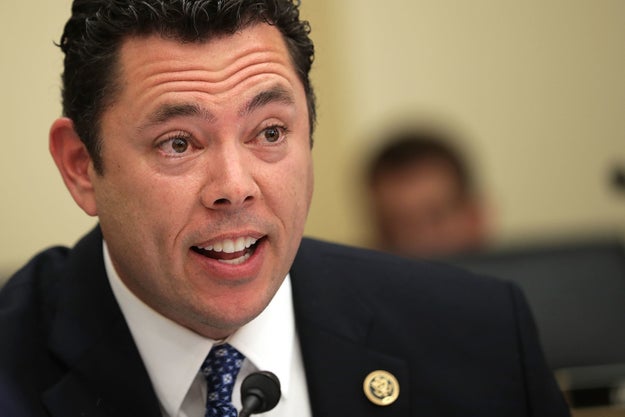 INDIAN WELLS, California — Rep. Jason Chaffetz, a conservative Utah Republican, said Sunday that President Trump's immigration order "needs some further clarification" with respect to the how it affects legal permanent residents with green cards.
The Republican, who pursued Hillary Clinton over her emails in his role as chairman of the US House Committee on Oversight and Government Reform, told those gathered at a California retreat for Charles and David Koch's political network that he supported "generally" what the president was doing.
"If we're targeting based on religion, then I think that's wrong. I understand the need and support the idea that vetting from certain countries is needed," he said.
"A legal permanent resident is, I think, a different category and I don't understand what they're trying to do in those categories," he added. "People that have a green card supposedly already have been vetted. There needs to be some further clarification."
—Tarini Parti
Posted at 4:55 p.m., Jan. 29
Priebus says immigration order will — and won't — affect green card holders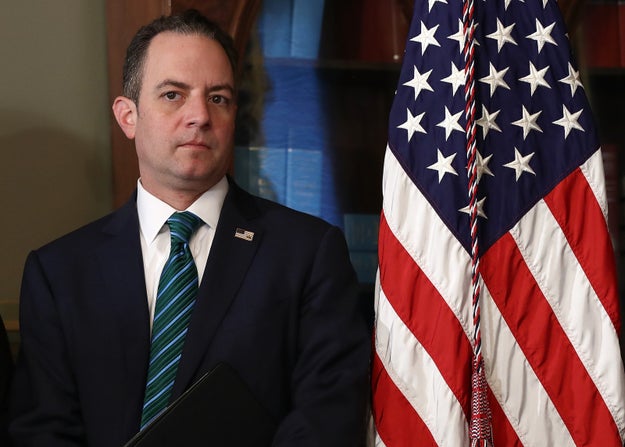 After green card holders from some countries were barred from traveling to the US under President Trump's new immigration order, White House Chief of Staff Reince Priebus on Sunday appeared to deny the rule would have a blanket effect on such individuals.
"As far as green card holders, moving forward, it doesn't affect them," Priebus said on NBC's Meet the Press, denying that the order would affect people with green cards who are from seven Muslim nations whose citizens are temporarily barred from entering the US. He repeatedly used the phrase "going forward."
But Priebus also contradicted himself on NBC, saying that "of course" the order would affect green card holders because "if you're traveling back and forth, you're going to be subjected to further screening."
"If you're a person that has a green card for whatever reason from Yemen, and you're coming back and forth to Yemen in the JFK, I think it's reasonable to expect that a Customs and Border Patrol agent's going to have a few more questions for you to wonder why in the world, you know, you keep coming back and forth from Yemen," he said on CBS's Face the Nation.